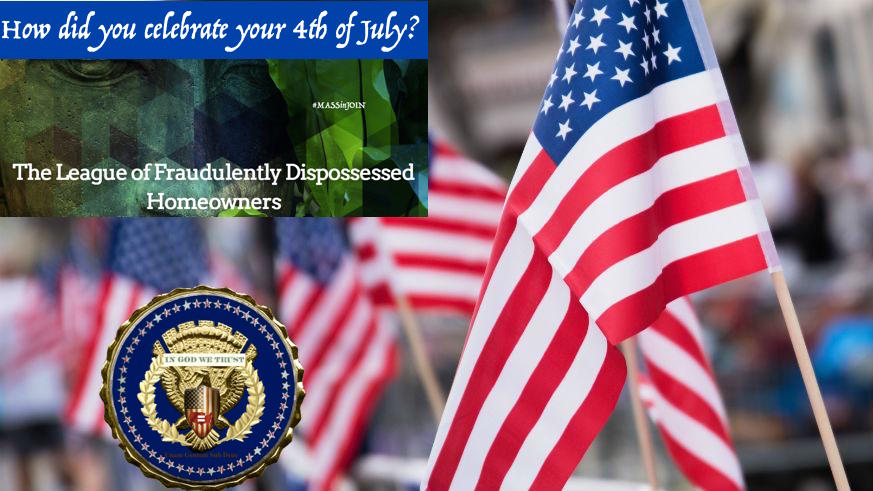 Join the Fight!
On Wednesday June 20th, 2018 History was made by Mrs. Powers in one of the most profound submission made upon her WINNING case. What this effectively does for people around this nation, is expose the core root that attaches each and every MERS in Uniform with Fannie Mae, Freddie Mac illegal foreclose across the board and enjoins them into this case by default. How? by exposing the MERS copyright trademark as the undisclosed BORROWER upon these contracts whom has been taking money from the PUBLIC TRUST FUND in order to pretend to lend you money. (We attached the MERS NATIONSBANK SECURITY AGREEMENT so you can see what is going on.

They called a S.W.A.T team out to evict this 58 year old woman and her teenage son, WITH GUNS DRAWN AGAINST THE HOME AND THE OCCUPANTS THEREIN. The party from is an interested party from, it is a civil joinder of criminal actions to which is being presented asserting congressional intent.

This case has the attention of the league because of the power packed behind it. So lets show her how much we appreciate everything she has done for us all.

POWER JOINDER
)
Click here for more information on her case


How can you show your support. by notifying the courts that you are an interested party. Then fill this out and send it in!


CV-30 Interested Party Joiner

Just like in every case you still have to send a Proof of Service to all of the Parties in Play (the Plaintiff and the Defendants)


Attorneys representing the Defendants_w_emails
F9013-3.1PROOFSERVICE





Here is the MERS NATIONSBANK agreement showing MERS as the BORROWER not you!


MERS NATIONSBANK SECURITY AGREEMENT - assignment-tm-1773-0949


This is also good to keep for your records


Scan_BNY Mellon Certs


While the league has been actively working in the background with cases up and down the coast of California we have been exposing corrupt judges and officials for receiving graft benefits to rule against you. There are several coming forward in their own notifications as well. In fact we have documentation on the head justice at Riverside county holding a vested interest in a real estate company with branch offices up and down the southern California coast, and others in the Northern part of California recording documents like this one…. Yes title companies are now recording as the Sellers of wrongful foreclosed properties as Wtf Inc. BTW that investment trust, was terminated on the SEC in 2006. In fact each and every pass-through of MERS followed the same pattern. They season the Real Estate Mortgage Investment Conduit or REMIC for a year before swapping it our unto another investment conduit through what is called derivative trading of Government Copyright intellectual property. They created this system against your social security number as a means to borrow against what was placed aside for YOUR retirement, and they have been trading your social security on the black market by converting them into certificates to which were attached to the manipulated LIBOR index in order to control the payouts to the investors while skimming off the top. Once that year was seasons, they would emulate and encourage consumer defaults by instructing their servicer's to say things like "we cannot help you unless you are in default.". The really sick part to all of this….. is that they consider you as a living breathing person, as nothing more than Government intellectual property, and because congress signed off on very specific bills to enable this… they have been blackmailing and extorting money from our Government for years. Why else do you think we have a
national debt
of over $21 Trillion to which increases and average of $100k a minute.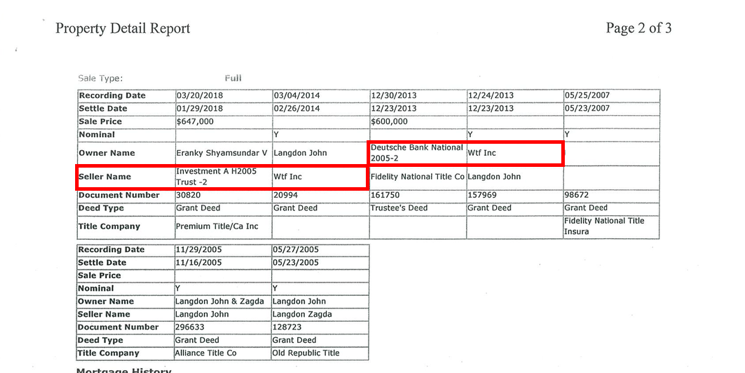 Here is what you can do…

Every voice is needed right now more than ever… all it costs is your time to to organize and outline, if you do not know exactly what to say, you are welcome to use some of our leagues verbiage below, because what we are effectively doing in this protest is demanding a copy of what was really traded. We already know what you think you borrowed, was traded for trillions of dollars that have been filtered off shore naming you as the unaware investor under with the IRS. Oh and by the way, the reason we cite Federal Civil Rules, Rule 81(f) (omitted from public view) on the bid protest form, is because that is the citation that reveals the courts, their reps, their employees etc etc as officers of the Internal Revenue Service. Yup, the courts themselves are aiding and abetting in grand larceny and the sad thing is, is most of the younger judges under the orders from the ones running these side RICO tax evasion scams on behalf of MERS, have no idea this is what they are engaged in.


1. Fill out your name on the pre-form, have your affidavit of crimes against you/declaration notarized and attached to the form
2. Fill out an Envelope for Return of copies stamped
3. Send the original and two copies, original for filing and 2 copies for return
4. Make sure you have it returned with signature required for you
5. Overnight the package to the court clerk for filing


UNITED STATES DISTRICT COURT
CENTRAL DISTRICT OF CALIFORNIA
SOUTHERN DIVISION – SANTA ANA

ATTN: Court Clerk for filing
Re: INTERESTED PARTY IN CRIMINAL JOINDER

411 W 4th St, Santa Ana, California 92701


Let this publication serve as notice from Dis-League's intent to sue the Corporate United States of America-

There IS NO STATUTE OF LIMITATIONS ON EMBEZZLEMENT UNDER THE CODE!
There IS NO STATUTE OF LIMITATIONS ON FORGERIES UNDER THE CODE!
There IS NO STATUTE OF LIMITATIONS ON A PROPERLY EXECUTED TILA RESCISSION OF THE TERMS OF THE CONTRACT UNDER THESE LANDS LAWS!

The PEOPLE move for a Grantor Recovery Rehabilitation and Restitution ACT - made BY THE PEOPLE FOR THE PEOPLE in support of our beloved NATION.

For those whom read this and still do not understand, it means you as a living breathing human being are being traded upon the Securities and Exchange Commission as a living breathing Government copyright commercial chattel. By addressing the actual UCC codes and underlaying reason to which this system was implemented, it forces the judge to act on your behalf, and not the federalized banking industry at large behalf. Because if they do not, they are held as accessories to the same crimes being committed by the the purp-e-traitors of these dirty deeds "for"-"closure"!

Want to know what we are doing about it? Read on…


FEDERAL CLAIM
AMICUS CURIAE 1